UAE – a place for a relaxing holiday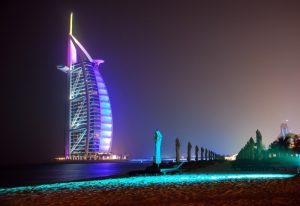 The United Arab Emirates (hereinafter UAE) are located in West Asia on the Arabian Peninsula. This state consists of seven small principalities: Abu Dhabi, Dubai, Ajman, Fujairah, Sharjah, Ras al-Khaimah, Umm al-Quwain. The capital is Abu Dhabi. Indigenous people here are Arabs. A lot of foreign citizens live and work in the UAE – Europeans, Americans, Pakistanis, Iranians and Indians. Arabic is considered the official language, and English is also widely spoken.
Each principality, which is part of the UAE, has independence and represents an absolute monarchy. The main authority is considered the High Council, which consists of the rulers of the emirates. A president is elected from among them.
The climate in the country is dry subtropical, there are practically no rainy days. Summer is wet and very hot, in winter the temperature is – 19-25 ° C in the daytime. The water temperature in recreation areas ranges from +15 in the winter, to +35 in the summer. All rooms in the UAE have air conditioning, including small shops, public transport and taxis.
The main part of the country is the desert, but skillfully grown green spaces make the cities very attractive.
The tourist season begins in September, when the heat drops, and lasts until May. At this time, tours in the UAE are in high demand.
The most popular tourist centers in the Emirates:
Dubai with its many bars, restaurants, jazz bars, water parks, Arab and European night clubs;
Abu Dhabi (large administrative center of the country);
Sharjah guarantees an inexpensive but quality vacation;
Ras al Khaimah, popular with natural hot water springs that attract tourists from all over the world;
Fujairah famous for its variety of terrain;
Ajman is a place for lovers of a relaxing holiday.
UAE FEATURES
The country professes Islam. Women should not openly dress and topless sunbathing.
In addition, there is a ban on the import of narcotic and psychotropic substances, there are also restrictions on cigarettes and alcohol. Any alcoholic drinks can be consumed in any quantities in bars and restaurants.
Ramadan is a holy month among Muslims. At this time, you should not smoke, drink or eat outside.
Men are allowed to photograph with their permission, women are not accepted.
Holidays in the UAE, although it cannot be attributed to a cheap option, but it is, of course, always high-quality service, interesting places and events, memorable excursions, seasoned with oriental flavor.