Rest in Karelia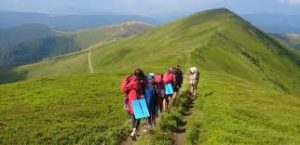 We very carefully chose a place to relax, preferably on the river and in comfortable conditions. At first they wanted to go to Finland, but settled on Karelia.
There are a lot of beautiful places, all kinds of camp sites, hotels, but this is again the noise, neighbors' partying until the morning, etc. I wanted silence and solitude, and we found such a place near the small village of Kindasovo. The house stood on the banks of the Shuya River, with its pier, fenced.
We arrived with a small dog, and everyone hid her, they were afraid they wouldn't allow her, but it turns out they even have enclosures for large dogs, so our Muska frolic like a child. In the evening, they found a good woman, Anya, bought a can of milk, and then her grandson brought us milk to the house, and even delicious Karelian pies with the ridiculous name "gates".
We did not walk around the village, because we didn't come for this. My son and I were fishing, and my wife and daughter tried to sunbathe, looking for sunny places: it was mid-May, so they didn't get a tan. But we came off. Right from the pier, perches and roaches were caught (after feeding), there were even 4 bream, but mostly small fish like hamsa were caught.
There were no mosquitoes at all (they say they fly out in June), although we stocked up with various ointments, in short, nothing was needed. In the evenings there was a bath with diving … This is something incredible!
We rode on a boat, but did not use for fishing, it is more convenient to catch from the pier. They cooked for themselves by typing food in a supermarket in Petrozavodsk (40 km from the city). An interesting city: all streets lead to Lake Onego, a beautiful promenade.
In general, I recommend this house, who wants silence and nature, I think you will not be disappointed. We advised all our friends, no worse than Finland. I don't remember the house's site, but the daughter typed "house in Kindasovo" in Yandex, and immediately found it.
Warm summer to all!